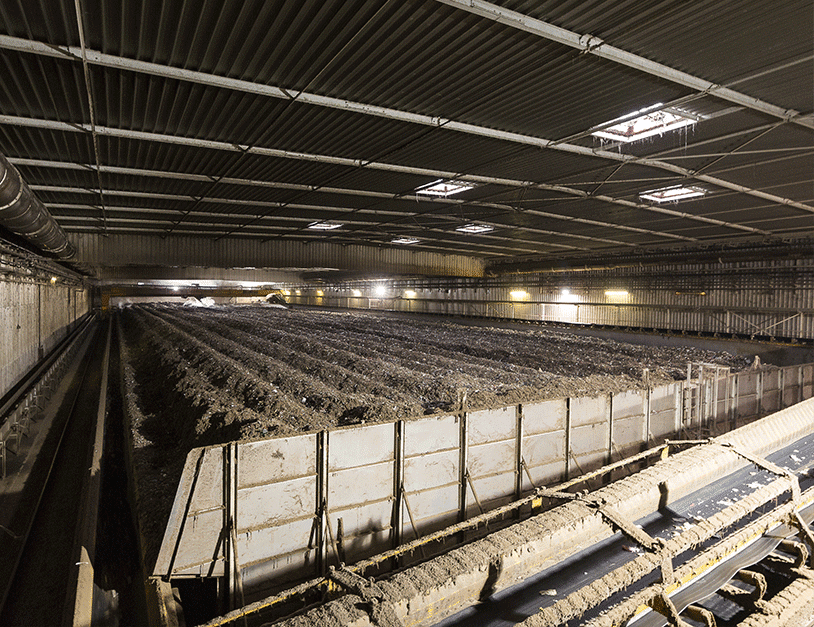 MECHANICAL BIOLOGICAL TREATMENT: THE COMPOST FACTORY
After collection, household waste is taken to specialised processing centres, like the mechanical biological treatment plants. There, the waste goes through an accelerated fermentation process, closely monitored by the experts of the Paprec Group.
Upon arrival at the site, the household waste enters a fully automated sorting line. All paper, cardboard and plastic waste is removed and transferred to the solid recovered fuel (SRF) branch.
The rest is transported to huge composting basins. Here, it undergoes an accelerated treatment to turn it into compost.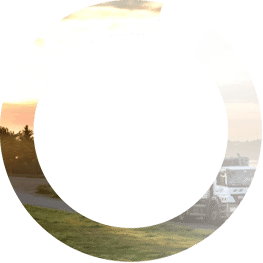 150
sorting and processing machines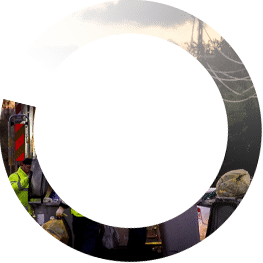 tonnes of household waste undergoes mechanical biological treatment every year in Nice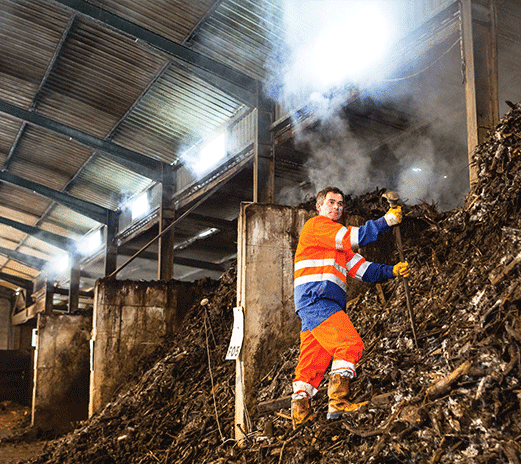 MECHANICAL BIOLOGICAL TREATMENT MEANS FASTER COMPOST PRODUCTION
The mechanical biological treatment process in Nice enables a substantial portion of household waste to be recovered:
10% as compost
20% as SRF
NB: the proportion of compost / SRF may vary depending on the volumes required simply by adjusting the sprinkling. This process is perfectly mastered by Paprec. The Nice area is highly urbanised, therefore demand for compost is low and SRF is preferred.
We also recover an average 5% metal and 5% inert waste. 40% of waste cannot be used and is destined for incineration or landfill sites. Finally, 20% of the initial volume evaporates during the process.
In Nice, the 2,700m2 basin can hold more than 2,500 tonnes of composting waste at once. It is unique in France, being fully automated.
IN NATURE, IT WOULD TAKE BETWEEN 6 AND 12 MONTHS. OUR PROCESS, WHICH INVOLVES SPRINKING AND TURNING THE CONTENTS REGULARLY, TAKES JUST 6 WEEKS.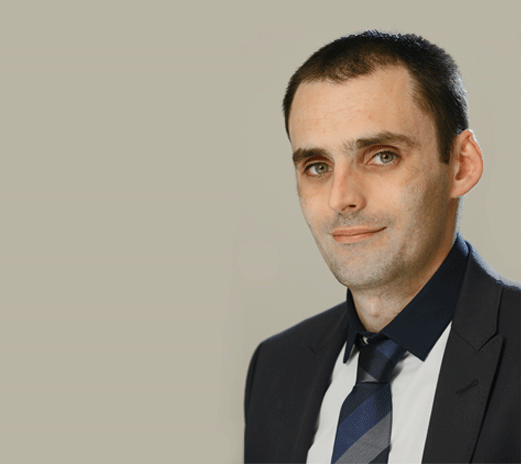 Olivier Chaussard . Regional director for Côte d'Azur, responsible for mechanical biological treatment in Nice for the Paprec Group
MECHANICAL BIOLOGICAL TREATMENT FOR LANDSCAPING
The compost produced by this process is certified conform to French norm NF 44051. It can be used as fertiliser for soils and landscaped areas, but is not recommended for vegetable crops.