France Plastiques Recyclage: the expansion is now in its final straight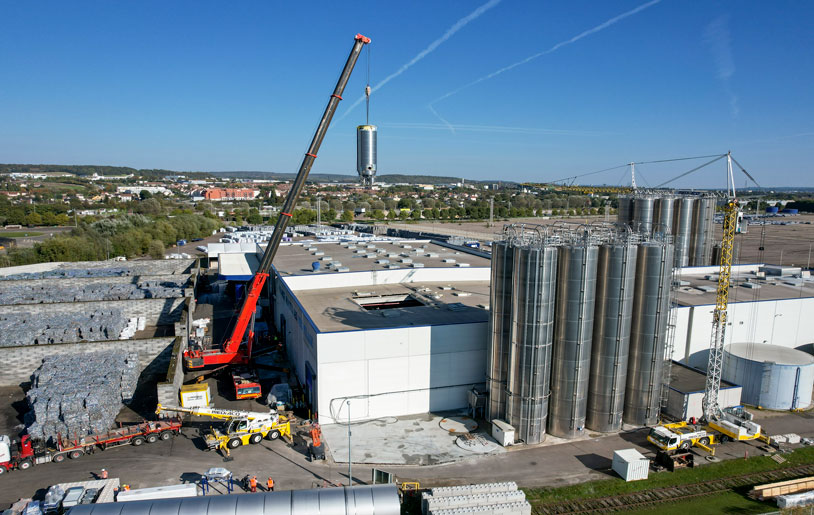 The France Plastiques Recyclage plant has been under construction since the spring of 2021 and is about to commission its fourth extrusion line. By the start of 2022, this flagship company of Paprec Group will be able to double its PET recycling capacity.
"45,000 tonnes of plastic bottles processed per year with our current extrusion lines"
This ultra-modern flagship plant of the plastics recycling industry, France Plastiques Recyclage, is based in Limay and is a joint subsidiary owned by Paprec and Suez Environnement. Today it recycles 45,000 tonnes of plastic bottles per year obtained from selective sorting processes in the Paris region and north-western France. With the three existing extrusion lines, the site produces approximately 30,000 tonnes of recycled PET granules with the same properties as the raw material and approved for food contact.
A new, more efficient extrusion line to process plastic
In 2019 the European Union adopted a directive requiring 25% recycled plastic in bottles produced in Europe by 2025, and 30% by 2030.
To meet these targets, the France Plastiques Recyclage plant has received significant investments for the extension of silos, a hydrocyclone system, and the inauguration of a fourth extrusion line. Work began in the spring of last year and assembly of the line began in September. The line itself was commissioned in mid-November. "We will then carry out the trial-run phases before starting production at the start of next year for six months," explained Damien Vincent, maintenance director at France Plastiques Recyclage. This line alone will be capable of processing 2.4 tonnes per hour, which is double the plant's current capacity.