A series of investments for the plastics division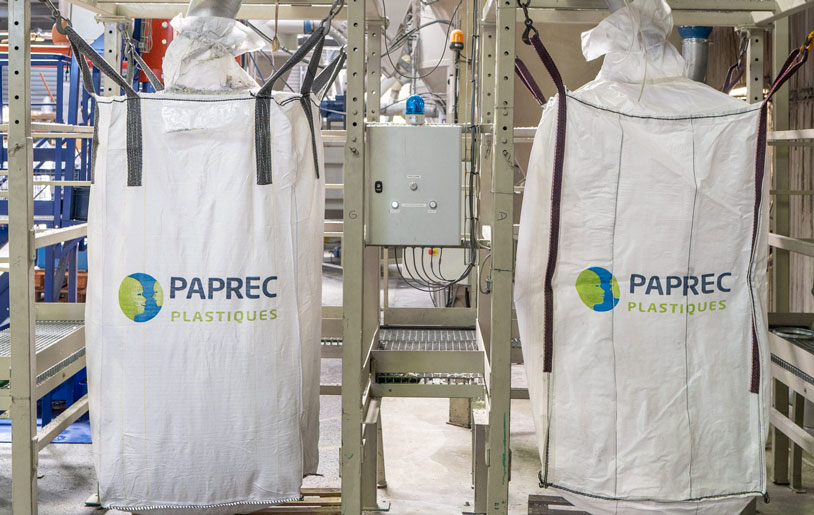 As the French leader in recycling, in particular plastic recycling, the Paprec Group continues to expand its plastics recovery and processing business with the construction of a new plant for the Floor to Floor project in collaboration with our partner Gerflor and a series of industrial investments.
Modernising and building new plastic recycling plants
We recycle one third of all the plastic waste collected in France. With an attentive focus on quality and testing laboratories of the highest academic level, our compounding capabilities also enable us to produce granules with the precise technical performance required by our customers. Our plant in Limay in the Paris region is one of the only plants on France to produce recycled granules approved for food contact, which can be used to create 100% recycled PET plastic bottles.
The quality of the recycled plastic granules produced in our plants is in high demand among our customers. Recent spikes in demand have led us to give the green light to a series of major investments. Work will begin soon at our Paprec Plastiques 71 site near Chalon, France, to modernise our production chains and significantly increase the plant's production capacity, particularly for polyethylene (PE) collected under newly expanded sorting rules.
Paprec Plastiques 55 in Verdun, France, will also boost its capacity to produce recycled polypropylene (PP).
Another project in the pipeline is the group's plans to build a plant with its customer and partner Gerflor, a specialist in high-tech flooring, to recycle the company's production waste and remnants.
There is no shortage of major projects in the plastics division, with plans to expand the facilities in Verdun and La Neuve-Lyre as well as a joint venture between Paprec and Gerflor known as Floor to Floor, which will create a new specialised plant.
Significant improvements for the plastics division
Since the launch of the Floor to Floor project, a localised chain has been created at Paprec Plastiques 49 in Trémentines that is dedicated exclusively to the recovery of production or installation waste produced by the French leader in high-tech flooring. Once the process has been stabilised and sufficient volume levels reached, the long-term goal is to build a specialised plant closer to the production site in Gerflor. A site has been found in Salaise-sur-Sannes, France. Its initial production capacity will be 8,000 tonnes of material from PVC flooring offcuts and remnants.
As a crowning touch on this series of investments (which will be extended in the coming months), we have also given the green light to increase the capacity of France Plastiques Recyclage by 17,000 tonnes – a nearly 50% boost. This investment is intended to meet the high demand for recycled PET.